Fukushima Accident Updates (Blog)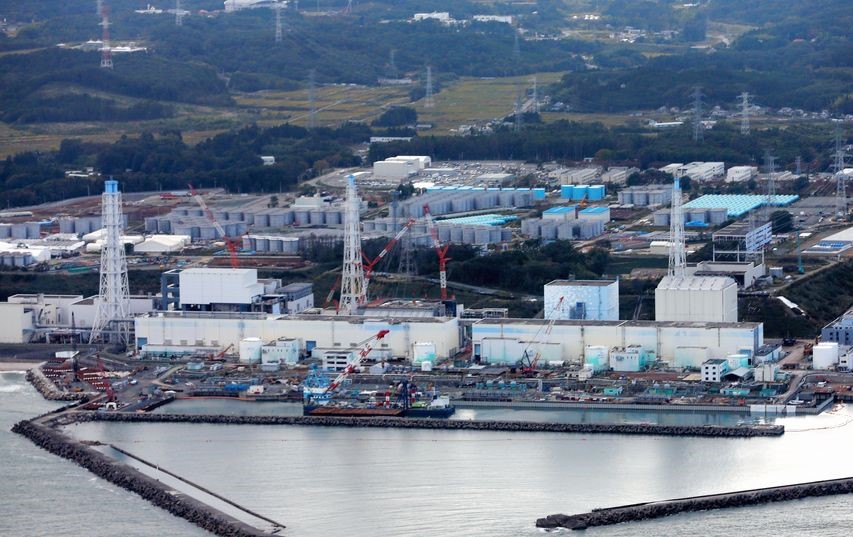 Your most reliable source of objective Fukushima News. No "spins"...just summaries of news reports in Japan's Press, which calls the Fukushima accident a nuclear disaster. Posts are made every week or two on Fridays
There are three regularly-updated pages on this site concerning popular Fukushima issues; Fukushima Evacuee Compensation Payments (updated monthly), Fukushima Child Thyroid Cancer s and  Fukushima Radiation on North America's West Coast? 
E-BOOKs - "Kimin: Japan's Forgotten People" - the untold story of Japan's 300,000 tsunami refugees, ignored by the world's news media. Available at all E-book stores/sites... Click here for more...
Fukushima: The First Five Days... taken from the hand-written staff records at Fukushima Daiichi the first five days of the crisis. Fukushima : Available here and all E-book stores. Click here for more...
Please make a HOLIDAY donation
December 13, 2019
December 6, 2019
November 29, 2019
November 22, 2019
The latest data for Fukushima evacuee compensation payments has been posted… https://www.hiroshimasyndrome.com/fukushima-evacuee-compensation-payments.html
November 15, 2019
Niigata Prefecture holds its first nuke evacuation drill in five years. Niigata is home to the Kashiwazaki-Kariwa nuclear station, the world's largest by output (seven units with a nearly 8,000 MWe combined capacity). It is owned by Tepco. The two biggest units (1,325 MWe each) were approved for restart in 2017, but the hold-up is due to the prefecture dragging its heels with its own investigation into the cause(s) of the Fukushima accident, and other related issues. More than 150,000 residents of the two host communities were invited to take part in the drill, but only about 1,100 actually did. https://jen.jiji.com/jc/eng?g=eco&k=2019110900365 -- https://www3.nhk.or.jp/nhkworld/en/news/20191109_13/
A new study shows the concentration of accident-produced Cesium micro particles is extremely low. A 2018 study of Fukushima accident atmospheric releases indicated that most of these radioactive particles were "poorly soluble", found to be in larger concentrations than expected, some outside the predicted deposition areas, and possibly capable of remaining hypothetically dangerous far into the future. The study said, "…when we first started to find caesium-rich micro-particles in Fukushima soil samples, we thought they would turn out to be relatively rare. Now, using this method, we find there are lots of caesium-rich micro-particles in exclusion zone soils and also in the soils collected from outside of the exclusion zone." The new study, posted last month, says that while the specific activity of the micro-particles might appear large, there are only 22-101 such particles per gram of soil in highest concentrations, and between 1and 8 particles per gram elsewhere. Unlike the 2018 study, the distribution of Cesium appears consistent with the radioactive plume pathways that occurred with the march, 2011accident releases. Also, the micro-particles seem to have formed only on the afternoons of 3/14/11 and 3/15/11, from unit #3's explosion. Thus, the micro-particle formation and releases were specific in times and source. https://www.sciencedaily.com/releases/2019/10/191016111125.htm -- https://www.sciencedaily.com/releases/2018/05/180524104104.htm
Many Fukushima refugee families experienced flooding and other damaging effects caused by Typhoon Hagibis. More than 315 families endured "double suffering", in parallel to the Great East Japan Earthquake and Typhoon. The worst seems to have been with Tomioka Town evacuees in Iwaki and Koriyama where 108 refugee homes were damaged by flooding. Another town, Namie, reported 84 cars were damaged by the typhoon.  One person lamented, "How could we suffer again?" Some 10,000 current evacuees reside in Fukushima Prefecture as refugees. https://mainichi.jp/english/articles/20191109/p2g/00m/0na/071000c
November 8, 2019
November 1, 2019
The NRA will appraise F. Daiichi work management after concluding that two recent incidents are safety violations. The Nuclear Regulation Authority commissioners certified the judgement on Wednesday. One incident was the result of smoke generated by incorrectly connected power lines on undamaged units #5 & #6. The second was the discovery that "water servers" had been located incorrectly in restricted areas where radioactive material was being stored. The investigation will entail reports from NRA inspectors stationed in Fukushima Prefecture and questioning responsible Tepco officials. NRA Chair Toyoshi Fuketa said these errors raise concern as to whether or not Tepco has sufficient staff at F. Daiichi. https://www3.nhk.or.jp/nhkworld/en/news/20191030_40/
Tepco will invest about $2 billion toward the restart of Tokai Unit #2. The unit is owned by Japan Atomic Power, which has insufficient financial base to make all mandated post-Fukushima safety enhancements. The unit was shuttered as part of the nation-wide nuclear moratorium following the 2011 accident at F. Daiichi caused by a massive Tohoku Region tsunami following an unprecedented off-shore earthquake. Tepco executive officer Rikuo Ohtsuki says, "We have reached a conclusion that we can expect the Tokai No. 2 nuclear plant to be a source of power that helps provide inexpensive and stable electricity that emits less carbon dioxide to customers." In return for the investment, the company will get a significant percentage of the plant's output. Other investors in the unit are Tohoku, Kansai, Chubu, and Horukiru Electric Companies. Masashi Nagasawa, another Tepco executive, added, "We have made the judgment based on economic rationality." Japan's #1 antinuclear group (CNIC in Tokyo) says Tepco will never recoup the investment unless electric rates are increased. http://www.asahi.com/ajw/articles/AJ201910290042.html
October 25, 2019
International Olympic Committee President Thomas Bach will tell the world that Fukushima foods are safe. He also plans to watch an Olympic softball game in Fukushima Prefecture during next summer's games. Bach has made the decision despite South Korea's question of safety relative to Fukushima foods.  http://www.fukushimaminponews.com/news.html?id=974
A British university study says a nuclear evacuation is much more dangerous than sheltering in-place. The conclusion was drawn by the United Kingdom's NREFS Project (Management of Nuclear Risk Issues: Environmental, Financial and Safety). Perhaps the most telling point in the report is, "The research has shown that the risk after a big nuclear accident has happened is smaller than almost everyone has realized, a result that may change fundamentally the way people think of nuclear power. The life expectancy lost through radiation exposure after even the biggest nuclear accident can be kept small, while the downside risk is limited even in the absence of countermeasures." Also stated is, "Mass population movement has been shown to be a poor response to a big nuclear accident: relocation is an option that governments should use sparingly if at all." They admit that feeling safe and being safe can be very different, as is the case with nuclear accidents. Regardless, environmental groups should "embrace the holistic use of civilian nuclear energy". https://medium.com/generation-atomic/are-nuclear-disasters-dangerous-462476b49968
October 18, 2019
The latest Fukushima refugee compensation total for 10/11/2019 has been posted here… https://www.hiroshimasyndrome.com/fukushima-evacuee-compensation-payments.html
Typhoon Hagibis ravaged Fukushima Prefecture this past weekend, killing more than 2 dozen residents. However, no foreign residents or tourist were among the dead or missing. Most of the casualties were due to the collapse of a levee on the Abukuma River. It is the sixth-longest river in Japan, flowing 234 kilometers, but is located nowhere near F. Daiichi. Another overflowed river, Adatara, was responsible additional deaths. Prime Minister Abe visited with Fukushima's Hagibis refugees on Thursday. Across Japan, at least 77 were killed, with 9 still missing, in the catastrophe. More than 100 river levees failed, flooding over 33,000 homes. https://www.nytimes.com/2019/10/15/world/asia/typhoon-hagibis-fukushima-japan.html -- https://www3.nhk.or.jp/nhkworld/en/news/20191016_42/ -- https://www3.nhk.or.jp/nhkworld/en/news/20191017_28/  -- https://www3.nhk.or.jp/nhkworld/en/news/20191017_33/
Several bags of contaminated waste were swept into Fukushima's Furumichi River from a temporary storage site in Tamura due to the typhoon. Six bags were recovered, with their contents found to be intact. The contained materials were grass and wood debris. Officials said there would have been little or no environmental impact should the bags have become torn or otherwise damaged. https://www3.nhk.or.jp/nhkworld/en/news/20191013_64/
A recent financial scandal with Kansai Electric Company has caused the company to indefinitely delay nuke restarts. Several executives received large monetary gifts from a former deputy mayor of Takahama Town, which hosts Takahama nuclear station. Units 3 & 4 were restarted in 2017. However, the scandal has placed the restarts of units #1 & #2 in jeopardy. KEPCO's executive vice president Koji Inada said, "We must place priority on regaining the public's confidence. Unless we do so, we can't press forward with (nuclear power) projects. KEPCO has destroyed mutual trust that the prefectural government has nurtured with local residents. We'll be far from having regained trust by the time we receive a report from a third-party panel (set up to probe the payoff scandal). We can regain trust only after we've implemented measures to be recommended by the panel." https://asia.nikkei.com/Business/Energy/Nuclear-town-s-lavish-gifts-to-Japan-utility-imperil-plant-restart -- https://mainichi.jp/english/articles/20191009/p2a/00m/0na/012000c
October 11, 2019
Fukushima Prefecture continues to try and overcome false rumors. On one hand, prefectural tours including open-air meals using local fruits and vegetables are gaining in popularity. Magonote Travel has created the tour program where tables are set up in fields with meals put together by famous chefs. Company president Shonoshin Yamaguchi explains, "I wanted to make tours featuring (local) foods and food producers (because) I've seen farmers struggling after the nuclear accident." The program began in 2015 and has scheduled 13 tours for this year. Meanwhile, the Fukushima Joban Products Fair in Tokyo has presented products from Fukushima. Two dozen participating restaurants in Tokyo and Yokohama are making original dishes using fish and shellfish from the prefecture to enhance consumer recognition of regional brands and hopefully dispel unfounded fears and rumors. An opening ceremony was held October 1st. Director Takuji Mizuno of the Fukushima Fisheries Office said, "Good, tasty fish are caught in the waters off Fukushima Prefecture, where the Oyashio Current, rich in nutrients, meets the warm Kuroshio Current." This fair ends October 15th, but a second is planned for November. https://jen.jiji.com/jc/eng?g=eco&k=2019100800442 -- https://www.jaif.or.jp/en/fukushima-joban-products-fair-begins-featuring-seafood-sent-directly-to-restaurants-in-tokyo-yokohama-area/
Fukushima's effort to dispel rumors seems to be working, at least in Europe. The European Union says it will ease restrictions on Japanese foods before year's end. EU Commission chief Jean-Claude Juncker told Japanese Prime Minister Shinzo Abe the good news last month. Japan's foreign  ministry sees this as a good sign, and hopes other countries will follow suit. https://www3.nhk.or.jp/nhkworld/en/news/20191005_23/
Tomioka evacuees share their memories of the 2011 Tsunami and its aftermath. Teacher Yoshiko Aoki tells of the horror caused by the tsunami and the confusion resulting from Tokyo's order for everyone to evacuate the town. Though not sure why they had to flee, most people felt they would be allowed to return home soon. However, this was not the case. It was some six years before evacuation restrictions were relaxed, but there are locations that are still off-limits. Now, about 1,000 of the evacuees have returned, all committed to rebuilding the town that turned into a disaster area due to neglect. Yoshiko says, "It's people that built the town. It's also people who destroyed the town. And, it's people who can build it back up again. It's not easy to get back the lost years of trauma. People coming together can begin to heal." Moe Harada was eight years old when the tsunami changed everything for her. Her family's houses had been swept away. Now, she wants to tell her story and her personal opinion on the evacuation. Both Yoshiko and Moe believe the mandated evacuation may have been more dangerous than staying home, "It can be safer to stay home after a nuclear accident. But here in Fukushima, people were forced to evacuate instantly." Both want the world to know the "real Fukushima". https://thoughtscapism.com/2019/10/10/stories-from-tomioka-town-fukushima/?fbclid=IwAR3sco5nQrJpWJf0IRRj-d8T51M7jYQqrjBojRsOZjXV0JryUzVvphReXVs
Japan's new environment minister visits Fukushima Daiichi, and the popular press ignores it. Shinjiro Koizumi came to F. Daiichi on October 2nd. His placement as the new minister was posted in headlines across Japan because he is the son of popular antinuclear ex-PM, Junichiro Koizumi. On the day of his appointment, Shunjiro pledged himself to seek the end of nuclear generation of electricity in Japan. His visit included riding in the autonomous EV bus around the station, going inside unit b#3 reactor building, viewing area radiation exposure levels, and examining the site's emergency response headquarters. Tepco posted a video record of the event on October 2nd, but no Japanese news outlets seem to have picked up on it. https://photo.tepco.co.jp/en/date/2019-e/201910-e/191002-01e.html
The Nuclear Regulation Authority is having a radiation exposure treatment manual created. The agency says it is doing this because of a growing use of radioactive material in industrial facilities and the medical community. The NRA has asked the National Institutes for Quantum and Radiological Science and Technology to compile the material. The manual will follow guidelines by the International Atomic Energy Agency and contain the latest information about treatment in cases of accidental exposure. It will cover everything from high-level to low-level exposure, as well as the inhalation of radioactive materials. https://www3.nhk.or.jp/nhkworld/en/news/20191009_12/
Japan's Board of Audit says there are flaws in systems that transmit information during nuclear emergencies. Specifically, visual (closed-circuit television) conference technology intended to connect Tokyo to local governments and power plant staff involved in the emergency. 24 such systems have been installed since the 2011 F. Daiichi accident. However the Board found a lack of capacity in transmission lines for about 10 of the systems that could lead to a communication malfunction. The Board adds that about $1.5 million has been wasted in subsidies for the inadequate systems. The NRA Cabinet Office, charged with overseeing the network, declined comment. https://www3.nhk.or.jp/nhkworld/en/news/20191008_10/
Class action suit leader Ruiko Muto voices her opinion on three Tepco executives in the hope of having the recent court decision reversed, "Grassroots efforts are what pushes forward the social change we need to see… awareness spreads only when each individual starts to think about the issue at hand." She was staunchly antinuclear for more than two decades before the accident, resulting from what she heard concerning the Chernobyl accident in the Ukraine. When she saw the televised images of explosions at F. Daiichi, "I thought… this is exactly the same as Chernobyl." She spearheaded the suit against Tepco officials in the hope that "the truth of what happened that day and who should be held accountable would come to light." Though the court decision was a disappointment to her, she feels the 37 sessions brought evidence to the world that would otherwise have been buried. She also blames Tepco for more than 100 suicides following Tokyo's order for people to evacuate. https://www.japantimes.co.jp/news/2019/10/11/national/tepco-acquittal-fukushima-nuclear-disaster-closure/#.XaCSslVKiUl
October 4, 2019
Next Page : https://www.hiroshimasyndrome.com/fukushima-122-8-9-2019-8-23-2019.html