This site requires a lot of work. We hope you find our efforts valuable and rewarding. Please consider offering your support. There is no minimum amount. Feel free to donate as you see fit, without restriction. Thank you...



Fukushima Accident Updates (Blog)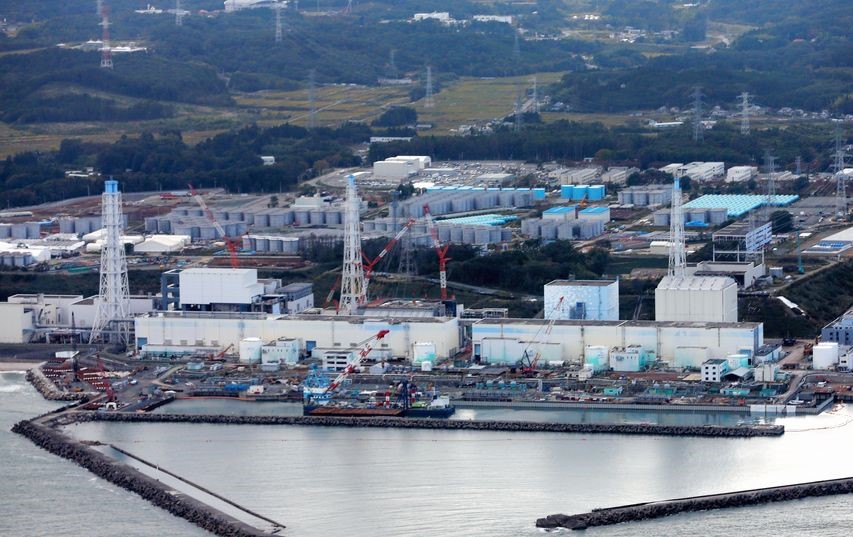 Your most reliable source of objective Fukushima News. No "spins"...just summaries of news reports in Japan's Press, which calls the Fukushima accident a nuclear disaster. 
There are regularly-updated pages on this site concerning popular Fukushima issues, such as  Fukushima Evacuee Compensation Payments (updated monthly)!

E-BOOKs - Fukushima: The First Five Days... taken from the hand-written operator's records during the first five days of the Fukushima Daiichi crisis . Available here and all E-book stores. Click here for more...
"Kimin: Japan's Forgotten People" - the untold story of Japan's 300,000 tsunami refugees, ignored by the world's news media. Available at all E-book stores/sites... Click here for more...
Please make a FALL donation to keep this page viable! To do so,  scroll to the bottom of the  menu on the left, and click on the donation button. Thank you! 
November 27, 2020
November 20, 2020
Seeds for Greek olive trees will be given to Naraha in Fukushima Prefecture. Naraha is a "host Town" for one of the of three Tohoku Region prefectures designated by Tokyo to boost reconstruction. The seeds will first be sent to the International Space Station for next planting season. They will be kept for about a month on the ISS in the Japanese Experimental Module "Kibo" (hope) before being returned and sent to Naraha. They will be planted in and around the town to show good will between Greece and Japan, concerning next summer's Olympics. http://www.fukushimaminponews.com/news.html?id=1033
Sendai unit #1 resumes operation. It was shut down on May 20th for planned maintenance and routine refueling. However, the outage was prolonged because the plant's mandated safety upgrades were behind schedule. The facilities included the installation of emergency remotes-control rooms, power sources, and additional water-injection pumps for damage prevention. They were required by Tokyo to deter a hypothetical terrorist takeover of the unit. Sendai #1 is the first nuke in Japan to have a remotely located "Specific Severe Accident" response facility become operational. It was approved by the Nuclear Regulation Authority on November 11th. The unit began restarting on November 17th and the reactor was taken critical the following day. Unit #2 is expected to have its own emergency operating facility ready to for a December 26th restart.  https://www.jaif.or.jp/en/kyushu-electric-starts-operating-facilities-at-sendai-1-npp-designed-for-specific-severe-accident-response-first-time-in-japan/ -- http://www.asahi.com/ajw/articles/13944771
The government has begun the long, tedious process of locating Japan's first high-level waste repository. On Nov. 17th, Economy Minister Hiroshi Kajiyama approved plans to launch the first selection stage for two small Hokkaido municipalities—Suttsu and Kamoenai--as possible sites for the reprocessed waste from nuclear power plants. In this first stage, Tokyo officials will examine documents and maps of seismic activity for about two years and meet with local officials to explain safety considerations. The next stage will include test borings into the geology for study. The final stage will be the building of the facility. Oversight will be handled by the Nuclear Waste Management Organization of Japan (NUMO). NUMO started canvassing municipalities to apply for siting consideration in 2002. Toyo Town in Kochi Prefecture was the first to apply in 2007, but fierce local opposition resulted in the application being withdrawn. Suttsu and Kamoenai have taken the plunge, largely due to a substantial financial enticement (~$19 million). On Nov. 17 Hokkaido Governor Naomichi Suzuki said he opposed the process, citing an ordinance stating that no nuclear waste should be brought onto Hokkaido for disposal. http://www.asahi.com/ajw/articles/13941302
November 13, 2020
November 6, 2020
October 30, 2020
October 23, 2020
The F. Daiichi wastewater issue continues to make radiophobic headlines across Japan, with no mention of Tepco's discovery that running the liquid through ALPS a second time reduces all radioisotopic concentrations below national standards, except for Tritium, which is totally harmless...
     Now, here's more Fukushima and related news…
Two new Tokyo ministers visit F. Daiichi, but Japan's popular Press ignores it. On Sunday, October 18th. Minister of Health, Labor and Welfare, Norihisa Tamura, and Minister of Economic Revitalization, Yasutoshi Nishimura, made visits on the same day. Both were briefed on the status of then 1.23 million tons of wastewater stored on site. Both had been there before and said that there has been a lot of change. Minister Tamura said, "Seven years have passed since my last visit, and I can see that the situation has changed significantly in comparison. Radiation levels have decreased, progress has been made with the removal of rubble, and the work environment has improved." He added, "Since guidelines were given by the Ministry of Health, Labor and Welfare, there have been no accidents involving fatalities, and injuries have decreased. I can see that labor safety and health are being excellently managed." Only Tepco's newsroom reported on the visits! https://www.tepco.co.jp/en/hd/newsroom/announcements/archives/2020/20201019_01.html -- https://www.tepco.co.jp/en/hd/newsroom/announcements/archives/2020/20201019_02.html
Miyagi Prefecture's Assembly approves the restart of Onagawa unit #2. Actually, they approved a restart petition submitted by the local commerce and industry association demanding an expedient restart. The petition was approved by a vote of 35 to 19 on Thursday. Combined with The pre-existing restart approval of the Ishinomaki and Onagawa Assemblies, this makes Governor Yoshihiro Murai's agreement even more likely. https://jen.jiji.com/jc/eng?g=eco&k=2020102300440
On the Coronavirus front, Japanese researchers prove that wearing masks retards the social intake of COVID 19 and reduce its spread. A team led by Professor Kawaoka Yoshihiro and Project Assistant Professor Ueki Hiroshi at the University of Tokyo's Institute of Medical Science used actual virus and human-like mannequins to draw their conclusions. One head, fitted with a nebulizer, simulated coughing and expelled actual coronavirus particles. The other mimicked natural breathing, with a collection chamber for viruses coming through the airway. With a cloth mask the transfer of inhaled droplets dropped by 17% and a surgical mask revealed a reduction of 47%. However, the N95 medical mask removed 79% of the droplets. When an exhaling mannequin wore a mask, a non-mask wearer's intake dropped 70%. Professor Kawaoka said this was the first such test run anywhere in the world. He added that while nothing is 100% effective, they had confirmed the importance of wearing a mask. Why this important finding has not been roundly reported in the American popular Press, is a mystery. https://www3.nhk.or.jp/nhkworld/en/news/20201022_02/ -- https://japantoday.com/category/national/japan-researchers-show-masks-do-block-coronavirus-but-not-perfectly
October 16, 2020
Fukushima fisheries will resume full operation next April. The Prefectural Federation of Fisheries unanimously agreed on this on September 29th. This is the first such target date set since the quake/tsunami of March 2011 devastated the Tohoku coastline. All commercial fishing operations have ceased since then, except for so-called "test" operations over the past few years. However, specific days on which full fishing can occur and how close the boats can approach F. Daiichi will continue under essentially self-imposed restriction. It seems the 10 kilometer distance restriction from the nuke station will continue. Federation chief Tetsu Nozaki says, "We have been able to come this far at long last. We would like to hold talks steadily among fishery operators and put full operations into practice." http://www.fukushimaminponews.com/news.html?id=1028
The Yomiuri Shimbun says Tokyo will allow the sea release of F. Daiichi wastewater. The opposition is based on the fear that Fukushima's fishing industry will collapse due to false rumors. One Soma fisherman said, "We are terrified that if even one fish is found to have exceeded the (radiation) safety standards after the treated water is released, people's trust in us will plummet." However, some local fishermen have conceded that a sea release may be the only rational solution. One said, "It has already been ten years since the nuclear accident. It can't be helped. There is no way that the problem is going to be solved by keeping the water in tanks when you've got rain and groundwater seeping into the plant." On the other hand, one fisheries official makes an irrational counter argument, "It's too soon." Meanwhile, Tokyo continues to avoid making the inevitable, albeit unpopular decision to make a sea release. Trade Minister Kajiyama Hiroshi reiterates that Tokyo will reach a conclusion as early as possible, which has been the state's position for nearly three years.  https://english.kyodonews.net/news/2020/10/b8be9bba5e9b-fishermen-worry-over-plan-to-release-fukushima-plants-water.html -- https://the-japan-news.com/news/article/0006864281 --  https://www3.nhk.or.jp/nhkworld/en/news/20201016_08/
A government ministerial council says the F. Daiichi wastewater disposal issue will be decided later this month. The decision follows months of briefings with local governments and related organizations in the public and private sectors. One senior government official says, "We had a total of 43 participants from 29 organizations in the hearings, including the latest session, such as Fukushima Prefecture and other local municipalities, agricultural, forestry and fisheries groups, fishing operators, and economic organizations." Fisheries official Hiroshi Kishi voices his stern opposition tom a sea discharge, "It could have a catastrophic impact on the future of our country's fisheries. We are resolutely against it as a consensus of fishery operators." As always, the fisheries offer no alternative that might satisfy them. https://jen.jiji.com/jc/eng?g=eco&k=2020101600315 --  https://www3.nhk.or.jp/nhkworld/en/news/20201016_24/ --https://www3.nhk.or.jp/nhkworld/en/news/20201016_24/ -- http://www.fukushimaminponews.com/news.html?id=1029
Tepco reports that a second F. Daiichi wastewater treatment lowers all residual radioisotopes below national limits, except for biologically-innocuous Tritium. The performance of the Advanced Liquid Processing System (ALPS) as a secondary treatment has been tested since September. About 1,000 tons of wastewater initially run through the ALPS system, was run through a second time, and all non-Tritium radioisotopes were lowered to below Tokyo's limits. Tepco thus decided to re-treat the roughly 800,000 tons that have been already treated, but have radioisotopic concentrations above national standards. https://jen.jiji.com/jc/eng?g=eco&k=2020101600319
South Korea continues to complain that Japan is not being transparent with F. Daiichi wastewater plans. Even though Tokyo has literally gone out of its way to brief all neighboring countries on their plans, and the harmless nature of a sea release, South Korea stubbornly suggests that a release could adversely affect the environment of neighboring countries, callously ignoring Japan's communications. https://www3.nhk.or.jp/nhkworld/en/news/20201016_34/
The Japan Atomic Industrial Forum creates Nuclear Principles of Conduct (NuPoC). JAIF hopes to generate overseas business by formalizing a code of conduct. The code was co-generated by Toshiba, Hitachi-GE, and Mitsubishi Heavy Industries. The principles cover safety, physical security, environmental protection, nuclear accident damages, nonproliferation, and ethics.  https://www.jaif.or.jp/en/nuclear-power-plant-and-reactor-exporters-principles-of-conduct-nupoc/
Godzilla invades Awajishima Island. Not the actual monster, but a life-sized replica at the Island's amusement park! The "Godzilla Interception Attraction" opened October 10th. The monster's wide open mouth allows thrill-seekers to attack Godzilla through zip lines and "shoot away its cells". The admission price is $36. http://www.asahi.com/ajw/articles/13808210 https://www3.nhk.or.jp/nhkworld/en/news/ataglance/1182/
It seems the Miyagi governor will consent to the restart of Onagawa unit #2. The Nuclear Regulation Authority gave the unit a passing safety grade in February. With the governor's apparent approval, it is almost certain that the prefectural assembly will support the measure on its next meeting, October 22nd. Gov. Yoshihiro Murai said, "I have sufficiently considered the will of the prefectural assembly, which represents the prefectural residents." His final, official decision will not come until he has held a meeting with Onagawa Mayor Yoshiaki Suda and Ishinomaki Mayor Hiroshi Kameyama, the communities that co-host the nuclear station. The outcome of the meeting should come by the end of the year. This is the first time a nuke along the tsunami-devastated Tohoku coast has been approved for restart by a governor. Please note that nearly all Press reports stated that the nuke was damaged by the quake/tsunami of March 2011. This is an materially false assertion! The IAEA has concluded, "The structural elements of the NPS were remarkably undamaged given the magnitude of ground motion experienced and the duration and size of this great earthquake."  In 2012, IAEA expert Sujit Samaddar told the Associated Press, "With the earthquake of this magnitude, we would have expected the plant to have more damages, and that was not the case." Onagawa's seawall of 14 meters sufficiently protected all three units at the station. In fact, the station's safety allowed about 240 local residents to take safe refuge there after the tsunami hit. None of Japan's Press outlets felt this was worth mentioning! https://the-japan-news.com/news/article/0006859082 -- https://www.japantimes.co.jp/news/2020/10/14/national/tsunami-onagawa-nuclear-plant-restart/ -- https://english.kyodonews.net/news/2020/10/390ddd8d53a8-restart-of-japans-tsunami-hit-onagawa-nuclear-reactor-to-be-okd.html -- http://archive.boston.com/news/world/asia/articles/2012/08/10/iaea_nuke_plant_near_fukushima_largely_undamaged/ -- http://travel.cnn.com/tokyo/life/japan-tsunami-earthquake-2011/nuclear-plant-turns-savior-japan-tsunami-refugees-199558/ -- http://www.t-enecon.com/cms/wp-content/uploads/2015/ebooks/onagawaE.pdf
A Tokyo agency says the opinions of F. Daiichi workers should be heeded by Tepco. The government's Nuclear Damage Compensation and Decommissioning Facilitation Corporation asks that Tepco seriously take into account the views and concerns of on-site workers when planning the removal of still-existent debris on and around Unit #2. This work is scheduled to begin next year. https://www3.nhk.or.jp/nhkworld/en/news/20201011_24/
A diver says he wants the world to know that he works in dangerous conditions at nuclear plants. Hisashi Okazaki has been a diver for 33 years, some of his assignments have included at nuke plants since 2006. He did some diving at F. Daiichi before the March, 2011 accident, and at Onagawa station over the years since. Rather than be proud of what he did, he curiously states, "I couldn't feel satisfied doing a job that leaves no trace of it behind." https://mainichi.jp/english/articles/20201009/p2a/00m/0na/020000c
October 9, 2020
Next page - https://www.hiroshimasyndrome.com/fukushima-127-9-25-2020-10-2-2020.html