Fukushima Accident Updates (Blog)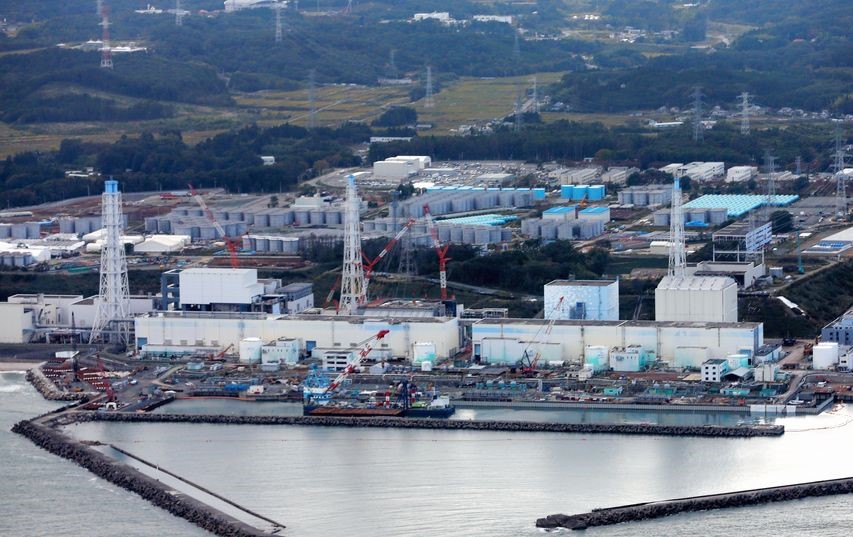 Your most reliable source of objective Fukushima News. No "spins"...just summaries of news reports in Japan's Press, which calls the Fukushima accident a nuclear disaster. Posts are made weekly on Thursdays.
There are three regularly-updated pages on this site concerning popular Fukushima issues; Fukushima Evacuee Compensation Payments (updated monthly), Fukushima Child Thyroid Cancer s and  Fukushima Radiation on North America's West Coast? 
E-BOOKs - "Kimin: Japan's Forgotten People" - the untold story of Japan's 300,000 tsunami refugees, ignored by the world's news media. Available at all E-book stores/sites... Click here for more...
Fukushima: The First Five Days... taken from the hand-written staff records at Fukushima Daiichi the first five days of the crisis. Fukushima : Available here and all E-book stores. Click here for more...
Please make a FALL donation
November 15, 2018
November 8, 2018
November 1, 2018
Ikata unit #3 restarts. Last Friday, the reactor operators began the slow process of raising specific control rods from their fully-inserted positions, in a precise pre-determined pattern. It is assumed that the unit achieved full power and began electricity transmission on Tuesday. It is scheduled to begin commercial operation on Nov. 28th. Meanwhile, a suit filed by local residents to bar operation was rejected by the Hiroshima District Court. Judge Takahiko Fujisawa said, "There is no risk that needs to be removed immediately with the injunction." https://www3.nhk.or.jp/nhkworld/en/news/20181027_10/ -- https://mainichi.jp/english/articles/20181026/p2g/00m/0dm/072000c
Estranged Futaba refugees recall memories of F. Daiichi and voice hope for eventual return to their homes. Contrary to the Mainichi Shimbun headline, "Scenes of Heisei: Were residents scattered by nuclear crisis beneficiaries or victims?", those interviewed made mostly positive statements. Buried near the end of the article, we find that 40% percent of Futaba's pre-accident population may still wish to return home. Tokyo plans on lifting the evacuation order in the spring of 2022. https://mainichi.jp/english/articles/20181029/p2a/00m/0na/009000c
Masao Uchibori won a second four-year term as Fukushima's Governor, in a landslide. He ran as an independent candidate. His campaign relied heavily on his track record for prefectural recovery during his first term. He won support from a wide spectrum of local organizations and national political parties. http://www.fukushimaminponews.com/news.html?id=919
Tokyo rejects the United Nation's most antinuclear body's call to halt the return of women and children to communities where evacuation orders have been lifted. U.N. special rapporteur Baskut Tuncak said that people felt they were "being forced to return to areas that are unsafe, including those with radiation levels above what the government previously considered safe." He called Tokyo's decision to repopulate affected communities "deeply troubling", because "Japan has a duty to prevent and minimize childhood exposure to radiation." The government rejected this criticism stating that Tuncak's comments were based on "one-sided information and could fan unnecessary fears about Fukushima." https://japantoday.com/category/national/japan-rejects-un-call-to-stop-returns-to-fukushima
Tepco's 2011 chairman says the massive tsunami could not have been predicted. Tsunehisa Katsumata is the latest of three former executives to testify, on trial for alleged professional negligence. After a perfunctory, socially-mandated apology to local Fukushima residents for the nuclear accident, Tsunehisa Katsumata said safety was his most important job, but when apprised of the 2009 report of a the minimal possibility of a massive tsunami hitting the plant, he had no authority to make a business decision for the company. He added, "My direct contact with employees decreased and my external activities increased" after he became Tepco's president, and he became even further removed after his ascension to chairman. https://www3.nhk.or.jp/nhkworld/en/news/20181030_42/ -- http://www.asahi.com/ajw/articles/AJ201810300056.html
A cabling pit fire occurred at Tepco's Kashiwazaki-Kariwa station this morning. It was discovered at 6:28am. The latest report from firefighters said that the fire had died down. None of the external area radiation monitors showed a release of any radioactive materials. https://www3.nhk.or.jp/nhkworld/en/news/20181101_25/
October 25, 2018
October 18, 2018
October 11, 2018
October 4, 2018
Tepco says as much as 80% of the treated water stored at F. Daiichi exceeds Japan's release limits, which are by-far the most restrictive in the world. The existence of biologically-harmless Tritium has long been known, but the co-existence of detectible, above-standards levels of other radioisotopes such as Strontium have not been reported until now. About 890,000 tons of the over-limit waters are now in storage. There is about 1,095,000 total tons stored at the nuke station. All of the waters have been run through ALPS (Advanced Liquid Processing System) that can remove all isotopes but Tritium, but the 10,000+ removal rate has left greatly reduced low levels of some other-then-Tritium radioisotopes. 146,000 tons have been successfully run through and additional system that removes the Strontium residuals. Some of the tanks that have not been stripped of Strontium are up to 20,000 times above japans standard for release. Tepco says the residual contaminants may be due to degraded absorption materials, equipment "glitches", or other causes. The main public complaint is that the voluminous amount of data Tepco has posted, to date, has overwhelmed the understanding of many residents.  https://www3.nhk.or.jp/nhkworld/en/news/20181002_02/ -- https://www7.tepco.co.jp/wp-content/uploads/handouts_181001_02-e.pdf -- http://the-japan-news.com/news/article/0004863468
September 27, 2018
September 20, 2018
The latest state of evacuee compensation has been posted. http://www.hiroshimasyndrome.com/fukushima-evacuee-compensation-payments.html
Dairy farming returns to Katsurao. Tetsuji Sakuma has re-started his dairy business with eight cows. Before the 2011 Tokyo mandate to evacuate the community, Tetsuji had a herd of 129. He made sure his wife and child were moved safely to Gunma Prefecture, then he moved in with his parents in Fukushima City. He returned to his farm two months later and found ten of the cattle dead. He sent 25 of his younger stock to a Hokkaido ranch, and the rest shipped off to be culled for their meat. Eventually, he moved his family to Minharu and worked as an assistant to a civil engineer. Restrictions on milk shipments were lifted in December of 2016, a year and a half after the Katsurao evacuation order was rescinded. It was not until It took time to repair has dairy equipment and return his property to its former condition. He bought the eight cows on September 11th to rejuvenate his business. He hopes to have a herd of 300, at some point. Tetsuji says, "I hope to restore my finances and to lead this area (to recovery). I don't want to be perceived as someone who quit in exchange for compensation. If I stop farming, I would feel like I have lost to these circumstances." https://mainichi.jp/english/articles/20180919/p2a/00m/0na/031000c
(Late entry) The number of Tohoku region evacuees due to the 2011 quake, tsunami, and nuke accident drops to 75,000. Some 20,000who reside with relatives and 20,000 in prefabricated buildings. More than 100,000 have moved into permanent accommodations over the past two years. The main reasons for the drop have been the lifting of evacuation orders in Fukushima Prefecture and removal of voluntary evacuees from the listing. While most of the businesses in the region have returned to successful operation, rumors and concerns remain a barrier to Fukushima recovery. Also on the downside, over half of the residents in Ōkuma, Futaba, Namie, and Tomioka still say they do not intend to return home. https://www.nippon.com/en/features/h00169/
September 13, 2018
September 6, 2018
August 30, 2018
 next page http://www.hiroshimasyndrome.com/fukushima-118-8-9-2018-8-23-2018.html