This site requires a lot of work. We hope you find our efforts valuable and rewarding. Please consider offering your support. There is no minimum amount. Feel free to donate as you see fit, without restriction. Thank you...



Fukushima Accident Updates (Blog)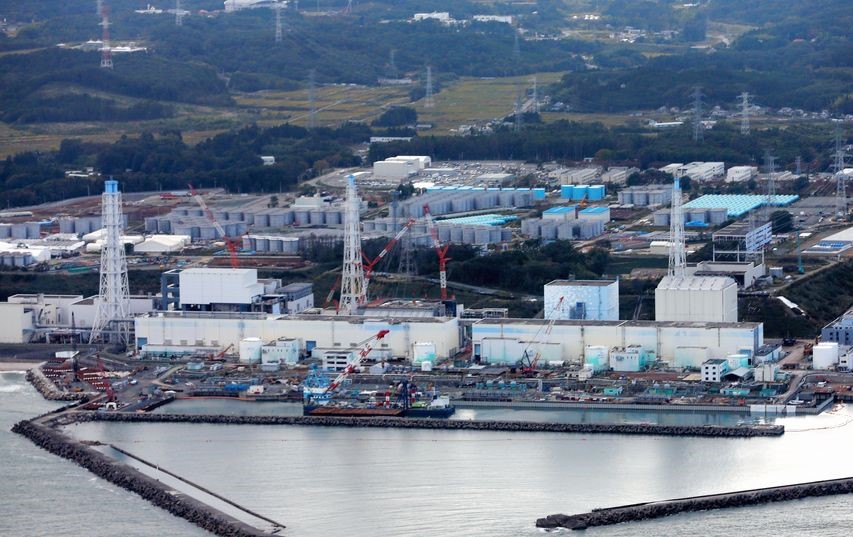 Your most reliable source of objective Fukushima News. No "spins"...just summaries of news reports in Japan's Press, which calls the Fukushima accident a nuclear disaster. 
There are regularly-updated pages on this site concerning popular Fukushima issues, such as  Fukushima Evacuee Compensation Payments (updated monthly)!

E-BOOKs - Fukushima: The First Five Days... taken from the hand-written operator's records during the first five days of the Fukushima Daiichi crisis . Available here and all E-book stores. Click here for more...
"Kimin: Japan's Forgotten People" - the untold story of Japan's 300,000 tsunami refugees, ignored by the world's news media. Available at all E-book stores/sites... Click here for more...
Please make a 2021 donation to keep this page financially viable! To do so,  scroll to the bottom of the  menu on the left, and click on the donation button. Thank you! 
January 22, 2021
The law for financial assistance to communities hosting nukes is up for renewal. For the first time since the 2011 F. Daiichi accident. Tokyo wants to renew extra financial assistance to jurisdictions housing nuclear power plants. The law was enacted in 2000 as a temporary measure to ease the minds of citizens living nearest to nukes. Locals had deep concerns about building new nukes on existing plant sites after the 1999 incident at Tokai station in Ibaraki Prefecture. The duration of the law was to be ten years, but another decade was just before the F. Daiichi accident occurred. It has been a financial boon to local governments, with a total of nearly $140 million being meted out in 2019. This is the first time that the law has been publically debated. Critics maintain that another extension cannot be justified given the 2011nuke accident. http://www.asahi.com/ajw/articles/14119178
Tokyo High Court absolves the government of F. Daiichi nuke accident liability. The decision effectively reverses a lower court ruling that ordered the government to pay additional compensation to evacuees, both mandated and voluntary. Presiding Judge Akira Adachi said that the government "was unable to foresee the occurrence of the massive tsunami", thus Tokyo's failure to order Tepco to beef up tsunami protection "is not found to be significantly unreasonable." The original lawsuit was filed on behalf of 137 Fukushima residents in Sendai who wanted $14.5 millionin psychological damages for those who fled outside the prefecture. Most of which was dropped by the Tokyo High Court. However, the court did order Tepco to pay $1.19 million to 91 of the original plaintiffs, who say it is not enough and plan an appeal.  Their rationale is the amount they received under the current state compensation guidelines is insufficient relative to the duress inflicted. https://jen.jiji.com/jc/eng?g=eco&k=2021012101163 --  https://english.kyodonews.net/news/2021/01/99f12b0c66b0-high-court-denies-govt-responsibility-for-fukushima-nuclear-crisis.html
Oi unit #4 restarts despite the Osaka District Court saying that it is vulnerable to earthquakes. The Osaka ruling was actually specific to the Nuclear Regulation Authority's quake safety standards. The court said the nuclear watchdog body is not following its own post-Fukushima guidelines, which we reported here on December 4th. The NRA filed an appeal the following week. Because the Osaka ruling concerns the Government agency, and not the Oi unit or its owners (Kansai Electric), the nuke can restart and operate while the case is fully adjudicated. https://lucian.uchicago.edu/blogs/atomicage/2021/01/19/table-japan-nuclear-reactor-operations-kansai-electric-restarts-ohi-no-4-reactor-via-reuters/ -- https://jen.jiji.com/jc/eng?g=eco&k=2021011600011
January 15, 2021
A new library to open in Okuma. It will hold up to 50,000 books and become one of the largest collections at a Japanese public school. Books donated since the March, 2011 calamity will be displayed in gratitude for public donations. The library will allow Okuma will be called a "Town of reading". The school housing the library will be dubbed because kindergarten, elementary, and junior high will be housed in the same location. http://www.fukushimaminponews.com/news.html?id=1041
A coming-of-age ceremony for the town of Namie was held last Saturday. 54 residents who turn 20 this year were honored in this annual celebration. Now an official adult, Ayumi Yoshida said,  "I feel happy that I was able to take part in this coming-of-age ceremony in my hometown although we are experiencing a host of difficult challenges." Namie Mayor Kazuhiro Yoshida said: "You are all gifted and have a bright future. I want you to keep watching your hometown Namie." All participants wore masks and practiced appropriate social distancing. https://jen.jiji.com/jc/eng?g=eco&k=2021011000043
One of the most tsunami-devastated coastal communities on the Pacific coast sees its massive ground-elevation project continue. The ten meter high civil engineering feat in Rikuzentakata, Iwate Prefecture, is scheduled to be completed this spring. The city was hit with a 10 meter surge on March 11, 2011, killing at least 1,606 residents. 223 remain missing and are presumed dead. The ground-elevation project will be more than 2.5 times the size of Tokyo's Disneyland Park. Mayor Futoshi Toba has urged the size of the project to be expanded to its present size because, "It is meaningless if people say it's too scary to live there." Resident Toshihiro Kanno lost his home in the disaster and said: "Everyone had their hands full rebuilding their lives. We didn't have time to think about what the city would look like after reconstruction." https://the-japan-news.com/news/article/0007055573
January 8, 2021
January 1, 2021
Thirty percent of Fukushima residents feel reconstruction has been sufficient. Meanwhile, 80% of Miyagi and 66% of Iwate Prefectures feel the same about recovery in their prefectures.  Of the three hundred people in the three prefectures who were polled, 176 felt reconstruction was "progressing" or "progressing to some degree" and 123 said progress was insufficient. Among Fukushima residents unhappy with progress, many said they are disappointed that they are still not allowed to return home. https://english.kyodonews.net/news/2021/01/13fd3540b365-only-30-of-fukushima-residents-happy-with-disaster-recovery-progress.html
Another overly-optimistic projection for renewable energy is proposed for Japan. In December, the World Wide Fund formally assured Japan that it can be carbon-neutral by 2050. WWF's "expert" Konishi Masako says that drastic change is needed, and the key is total elimination of coal-burning. While this is true, they reject nuclear energy as a viable alternative. Instead, they believe that strategically-located wind and solar plants, combined with hydrogen based generation, can off-set the loss of coal by 2030. Not only is their idea reliant on inherently intermittent solar and wind, but they say that enough excess energy will be produced by 2030 to make copious amounts for hydrogen as a fuel. Masako asserts, "When you fill energy demand with natural sources like solar and wind that are reliant on weather conditions, you end up producing a lot of surplus energy. But, this surplus energy can be used to break down water into hydrogen." (Aside - We at the Hiroshima Syndrome understand that this concept is irresponsible and unrealistic. Total carbon neutrality is possible for Japan only with a drastic shift to nukes. – End aside!) https://www3.nhk.or.jp/nhkworld/en/news/backstories/1436/  
• The Asahi Shimbun makes an unsupported claim about radiation levels at F. Daiichi! The headline reads, "Radiation levels at Fukushima plant far worse than was thought", but nothing in the subsequent article supports the claim! Of realistic interest, the article correctly points out that the shield plugs which seal up the containments have radioactive material attached to their undersides. NRA chairman Toyoshi Fuketa has said, "It appears that nuclear debris lies at an elevated place. This will have a huge impact on the whole process of decommissioning work." The body of the Asahi report is filled with huge numerical estimates of radiation levels inside the containments, but nowhere does it say that these estimates are any worse than had been expected! http://www.asahi.com/ajw/articles/14071742
Happy Holidays to all of you, and a prayer for a betterNew Year!
December 25, 2020
December 18, 2020
December 11, 2020
December 4, 2020
An Osaka court hands down a potential landmark by rejecting Japan's revamped nuclear safety rules. The decision, if it is not struck down, could have far-reaching implications. The NRA uses the same method to judge the safety levels of all other nukes. The ruling made the roughly 130 plaintiffs virtually giddy with joy. They argued that Nos. 3 and 4 units of Kansai Electric Power Co.'s Oi nuclear station in Fukui Prefecture are vulnerable to a major earthquake. Presiding Judge Hajime Morikagi said the Nuclear Regulation Authority's safety screening "has errors and flaws that should not be overlooked", suggesting a quake far greater than what the NRA believes is possible. Plaintiff lawyers say the decision resulted from "sincere and serious deliberations." As a result, they demand the immediate abolition of all "dangerous" nuclear units in Japan. To the contrary. NRA Lawyers responded that the plaintiffs' arguments are "something they came up on their own and not based on scientific knowledge. We believe we were unable to earn the court's understanding regarding our claims. We will have discussions with the ministries and agencies concerned and respond accordingly." Plant owner Kansai Electric Company posted that decision was "extremely regrettable and totally unacceptable." The court interprets a recent NRA regulatory provision saying the screening guidelines should account for variability due to various calculation methods. The plaintiffs say safety measures must be based on the most extreme earthquake conceivable for the region, and the NRA's current calculation method merely produces an "average" for the regulatory design basis. Both Oi units are currently shut down for refueling and scheduled maintenance. They may restart if the NRA appeals the decision. Regardless, the ruling applies to all units in Japan until such time as it is struck down.  https://jen.jiji.com/jc/eng?g=eco&k=2020120400954 -- http://www.asahi.com/ajw/articles/13989665 -- https://english.kyodonews.net/news/2020/12/8c717cf8568d-urgent-japan-court-nullifies-approval-of-oi-nuclear-reactor-safety-steps.html -- https://www3.nhk.or.jp/nhkworld/en/news/20201204_27/ (The court decision is immediately the lead story through-out Japan's news outlets. The above-listed references seem to embrace the range of Press coverage.)
Many voluntary evacuees are paying the price for their radiophobic decision to flee. Some 40 % of Fukushima evacuees are making less than $29,000 per year, which is considered low income in Japan. A survey held by Kwansei Gakuin University's Institute of Disaster Area Revitalization, Regrowth and Governance found that 75% of the low income respondents were From Fukushima Prefecture. Of them, 60% evacuated voluntarily! Before the nuke accident, average income was about $38,000 annually. 90% of the voluntary single-mother evacuees are included in the low income demographic. Close to 70% of respondents said they had no intention of returning home. Gakuin University's Shigeki Yamanaka, says,, "Single-mother evacuees …have to take on two or three jobs. There needs to be a basic income system guaranteeing a minimum income for people who evacuate in a nuclear disaster, as well as a fund to support those people." https://jen.jiji.com/jc/eng?g=eco&k=2020120100633 -- https://mainichi.jp/english/articles/20201128/p2a/00m/0na/013000c
November 27, 2020
November 20, 2020
Seeds for Greek olive trees will be given to Naraha in Fukushima Prefecture. Naraha is a "host Town" for one of the of three Tohoku Region prefectures designated by Tokyo to boost reconstruction. The seeds will first be sent to the International Space Station for next planting season. They will be kept for about a month on the ISS in the Japanese Experimental Module "Kibo" (hope) before being returned and sent to Naraha. They will be planted in and around the town to show good will between Greece and Japan, concerning next summer's Olympics. http://www.fukushimaminponews.com/news.html?id=1033
Sendai unit #1 resumes operation. It was shut down on May 20th for planned maintenance and routine refueling. However, the outage was prolonged because the plant's mandated safety upgrades were behind schedule. The facilities included the installation of emergency remotes-control rooms, power sources, and additional water-injection pumps for damage prevention. They were required by Tokyo to deter a hypothetical terrorist takeover of the unit. Sendai #1 is the first nuke in Japan to have a remotely located "Specific Severe Accident" response facility become operational. It was approved by the Nuclear Regulation Authority on November 11th. The unit began restarting on November 17th and the reactor was taken critical the following day. Unit #2 is expected to have its own emergency operating facility ready to for a December 26th restart.  https://www.jaif.or.jp/en/kyushu-electric-starts-operating-facilities-at-sendai-1-npp-designed-for-specific-severe-accident-response-first-time-in-japan/ -- http://www.asahi.com/ajw/articles/13944771
The government has begun the long, tedious process of locating Japan's first high-level waste repository. On Nov. 17th, Economy Minister Hiroshi Kajiyama approved plans to launch the first selection stage for two small Hokkaido municipalities—Suttsu and Kamoenai--as possible sites for the reprocessed waste from nuclear power plants. In this first stage, Tokyo officials will examine documents and maps of seismic activity for about two years and meet with local officials to explain safety considerations. The next stage will include test borings into the geology for study. The final stage will be the building of the facility. Oversight will be handled by the Nuclear Waste Management Organization of Japan (NUMO). NUMO started canvassing municipalities to apply for siting consideration in 2002. Toyo Town in Kochi Prefecture was the first to apply in 2007, but fierce local opposition resulted in the application being withdrawn. Suttsu and Kamoenai have taken the plunge, largely due to a substantial financial enticement (~$19 million). On Nov. 17 Hokkaido Governor Naomichi Suzuki said he opposed the process, citing an ordinance stating that no nuclear waste should be brought onto Hokkaido for disposal. http://www.asahi.com/ajw/articles/13941302
November 13, 2020
November 6, 2020
Next page - https://www.hiroshimasyndrome.com/fukushima-127-9-25-2020-10-2-2020.html